Conference Center Audio Systems: LEA Install At I-Hotel
The I-Hotel and Conference Center in Champaign, IL brings people together from around the world to gather for corporate meetings, seminars, social events, weddings and so much more. From creating special moments and memories for the bride and groom's big day to providing the tools and technology to inspire business leaders and deliver critical information, this space required technology with power, reliability, and flexibility. And it is an honor to have our amplifiers driving this conference center audio system.
Let's dive in and take a closer look at this LEA install…
THE SPEC
CONFERENCE CENTER AUDIO SYSTEMS: LEA INSTALL AT I-HOTEL
 Venue: I-Hotel and Conference Center
Install Purpose: Conference Center Expansion to provide over 70,500 sq. ft. of meeting space
 Product Used: CONNECTSERIES CS704D (Qty. 9)
 # of Zones: 27
 Total Wattage: 25,200 Watts
THE VENUE
CONFERENCE CENTER AUDIO SYSTEMS: LEA INSTALL AT I-HOTEL
I-Hotel now provides more than 70,500 square feet of interior meeting space. This includes a modern 12,200 sq. ft. exhibit hall that can accommodate up to 750 guests for a wedding reception, endless floorplan options for large conferences and expos, and seating for up to 1,200 guests, theater-style. In total, they now have 9 new, fully reconfigurable rooms.
THE INTEGRATOR
CONFERENCE CENTER AUDIO SYSTEMS: LEA INSTALL AT I-HOTEL
Champaign-Urbana based C.V. Lloyde Audiovisual has been providing pro AV design, sales, and installation services throughout Illinois for more than 150 years. With a deep-rooted philosophy that the quality of a professional system must not be compromised by the actual installation, C.V. Lloyde counts many of the region's universities, stadiums, houses of worship, school districts, and corporate facilities among their long list of clients.
Kyle Wikoff & Todd Fitton the System Design Team at C.V. Lloyde worked on the I-Hotel project, explained that I-Hotel management wanted to equip their new meeting spaces with high-quality, scalable AV systems. They also wanted to use the opportunity to upgrade their existing systems and tie them together for maximum, full-facility flexibility.
We recently got the chance to talk with Stephen Morris about some of their install stories, motivations, and just geek out a little bit about audio gear. It was a blast! You can read some of that transaction here.
THE INSTALL
CONFERENCE CENTER AUDIO SYSTEMS: LEA INSTALL AT I-HOTEL
Because the AV system is all network-based, C.V. Lloyde worked with the I-Hotel IT team to deploy the system. The C.V. Lloyde team designed the system, specified the equipment, and then provided the IT team with a database of equipment serial numbers and Mac addresses so they can set up their network around the equipment needs — whether it's a standard network for IT or if it's an AV network distributing audio or video.
And we were glad to hear that C.V. Lloyde was taking full advantage of our Cloud platform with this project as well.
"At the I-Hotel, we're currently using AMX SVSI for AV transport, as well as an extensive Dante audio network," explained Fitton. "The LEA amplifiers we're using are 100% Dante and IoT-enabled, so we were able to put the LEA amplifiers on their own kind of network to be able to reach the internet because that's not typical for the hotel facility — the remote connectivity is a huge LEA advantage for us, and the client loves it."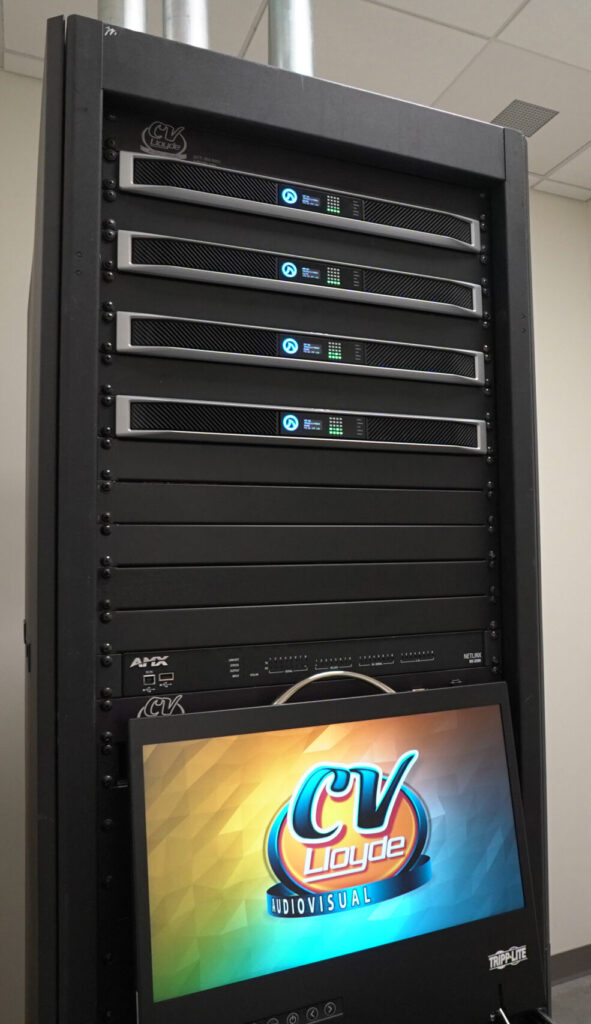 "When we're on-site, our technicians can log in to the system with a laptop or smart phone, walk around the facility and just mute a channel or a media zone and quickly be able to identify if it's on or off," said Fitton. "And when we are doing speaker testing, to be able to mute all the other channels of the amplifiers easily, that says a lot about the product. We really liked those features."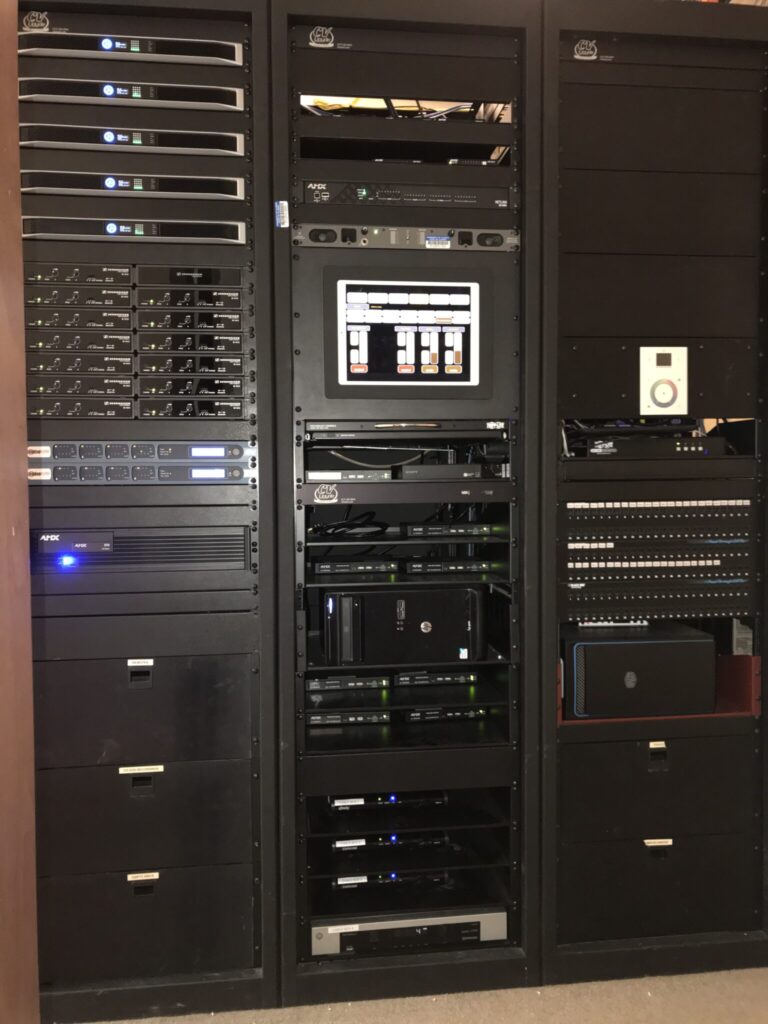 The I-Hotel and Conference Center system is currently using nine 704D, Dante CONNECT SERIES amps for a total of 25,200 watts across 27 zones.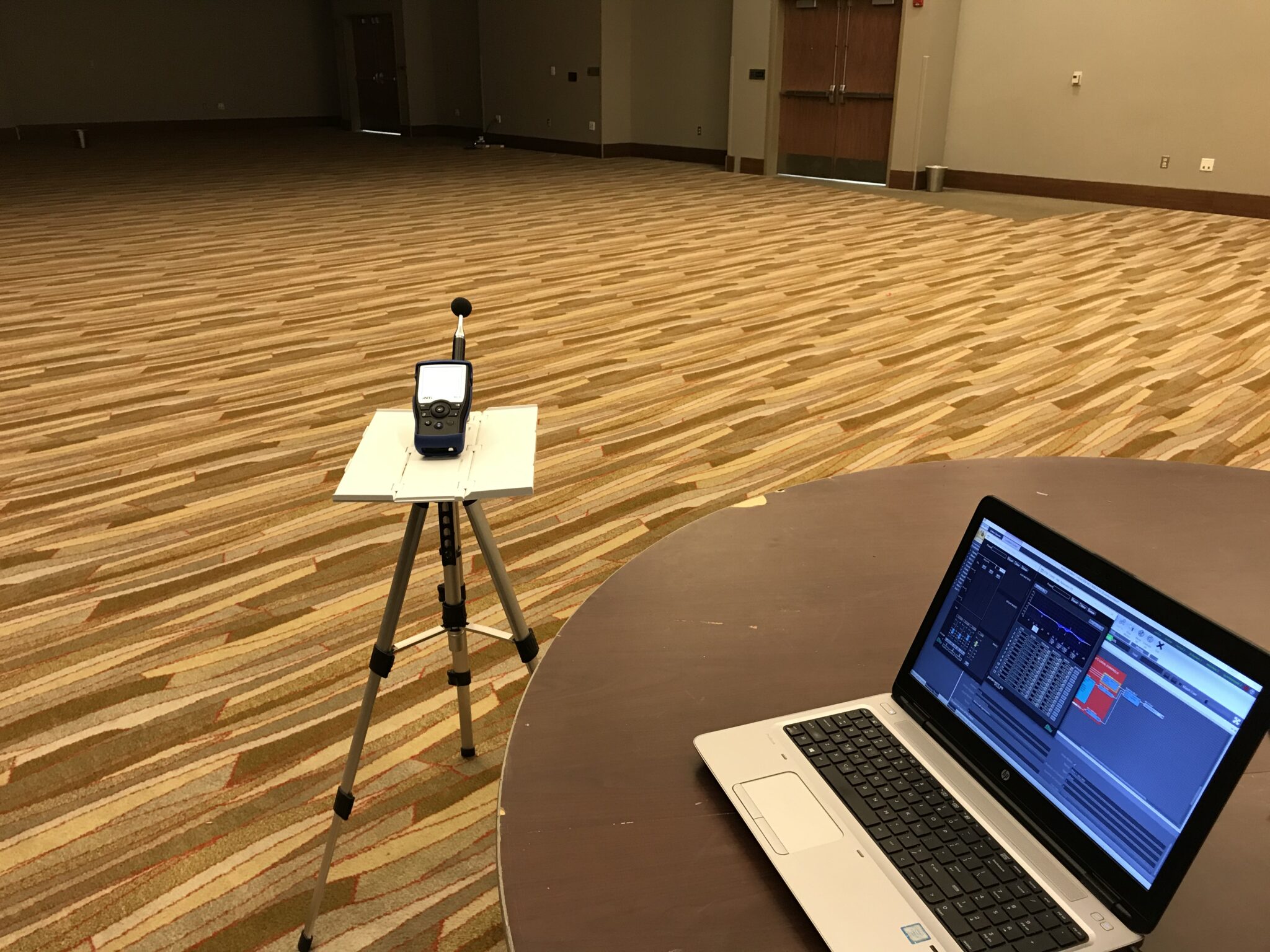 THE CONCLUSION
CONFERENCE CENTER AUDIO SYSTEMS: LEA INSTALL AT I-HOTEL
The new system is very flexible and easy to use, allowing hotel staff to quickly combine any rooms or any batch of rooms to meet any configuration need. Everything in the system is controllable via an AMX touch panel. C.V. Lloyde helped create a custom user interface that allows users to quickly set up background music and adjust audio volumes with or without engaging video projectors or dropping motorized screens.
According to the design team, the system delivers the audio quality, flexibility, and ease of use across the entire facility that the client required.
"LEA is our number one choice for amplifiers because of the units' quality and connectivity, and for the relationship, we have with the people at LEA Professional," said Fitton. "Their response times and level of support have been phenomenal— that's a huge benefit, especially for hotel and conference spaces. I certainly look forward to more projects with the folks at LEA Professional."
We'd like to thank C.V. Lloyde Audiovisual for giving our CONNECTSERIES a chance in this project and we hope that people will benefit from the support provided by our amps in the I-Hotel and Conference Ceneter for many years to come.
If you have any questions or feedback about using our CONNECTSERIES amps in install projects like this LEA Install for Conference Center audio systems or any other projects, feel free to fill out the form below or reach out to us on our social media channels.