The SARA II Premium Rendering Engine harnesses Spatial Sound Wave (SSW) technology and makes fully object-based, sophisticated immersive audio accessible for the end-user.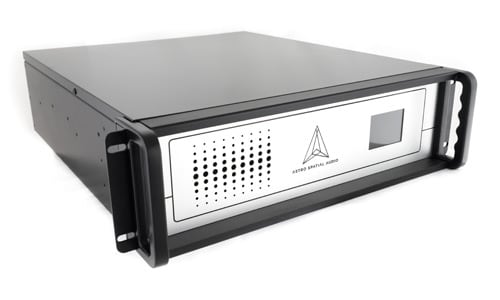 Powerful, ease of use
Minimum 32 configurable audio objects
Minimum 64 output channels
Wordclock
LTC Timecode
Robust 3RU rack-mount housing
Ultra-low noise cooling
Redundant Solid State Drives
A range of redundancy options
Web-browser based control
CPU-based with a Linux ecosystem, each SARA II engine offers up to 64 MADI or 128 Dante configurable network pathways at 48kHz/24bit resolution. All paths are assignable to at least 32 audio input channels that can be rendered to up to 128 independently processed sound source outputs (point-source or plane-wave). True object-based immersive audio is achieved with 40 synchronisation updates per second, per object, to ensure absolute accuracy, plus advanced algorithms applied to fast moving objects to prevent audible errors. Latency is a mere 5ms.
Reliability and ease of operation is ensured by SARA II's built-in webserver. This provides browser-based access to an easy-to-operate graphical user interface, with simultaneous control from up to 10 devices, ranging from mixing consoles, digital audio workstations and Windows, Linux or Mac operating systems, to tablets and phones running either Android or iOS. Control via third-party systems or MIDI is achieved via Open Sound Control (OSC).
Constructed in a rugged 19-inch, 3U casing with an internal, expandable 120GB SSD drive and full redundancy, SARA II is ready for the road or the rack, with the power and intelligence to make sophisticated spatial sound a scalable, accessible reality for sound engineers.