LEA Amplifiers For Popular Dining | KFC Mexico
Eating at KFC in Mexico is not your typical drive-thru experience, instead a family destination for dining and enjoyment. With 502 locations throughout the country and aggressive plans on the horizon they decided to go with LEA Professional to provide consistent, reliable audio.
Let's dive in! 
THE SPEC
LEA AMPLIFIERS FOR POPULAR DINING | KFC MEXICO
 Venue: KFC | Mexico
 Distibutor: Intéligos
  Integrator: Signo
 Audio Spaces: 502 Locations
 Product Used: CONNECTSERIES 354 (1) at each location
THE VENUE
LEA AMPLIFIERS FOR POPULAR DINING | KFC MEXICO
KFC synonymous with Colonel Sanders, and its "finger‐lickin good" chicken has been a culinary delight for millions of families around the world for over 130 years. In Mexico, KFC has the distinction of being ranked by YUM Brands as its #1 franchisee in the world for its high standards, store design, and overall value to the consumer.
"Our business vision is about offering a nice environment for friends and families to enjoy a dine‐in experience," says Alfonso Ramirez, director of Premium Restaurant Brands, which is responsible for KFC and its franchisees throughout the country. "While drive‐thru, delivery, and carry‐out are very important channels for our business, the idea of families sharing, being together and eating together in our restaurants is part of the enjoyment we want our brand and stores to foster."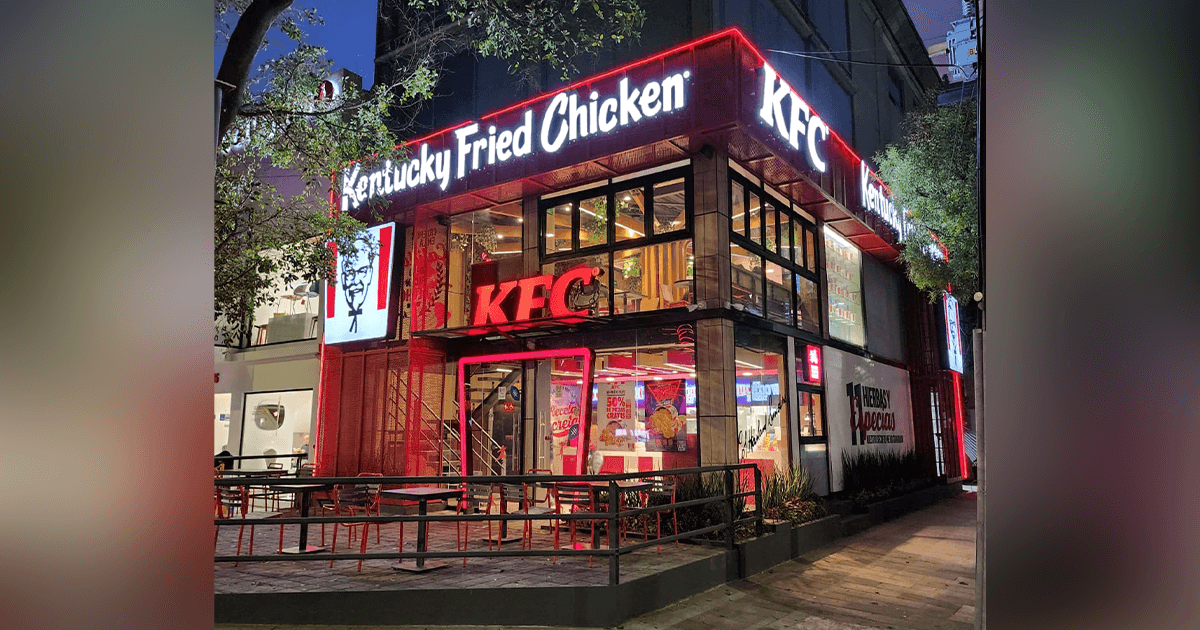 THE INSTALL
LEA AMPLIFIERS FOR POPULAR DINING | KFC MEXICO
To maintain this high standard, KFC wanted the same audio content and ambience across all of its locations and wanted the ability to control it from one place. In a country of 126 million people covering 760,000 miles, the logistics behind a project of this magnitude are daunting. Agüero and his team first needed to assess the current state of the audio systems across the various locations, and then develop a scalable solution to accommodate KFC's plans for growth.
Signo started the process by partnering with Intéligos, a leading audio, video, and security sales company headquartered in Monterrey, Mexico. With such a large country to cover and the looming requirement for single‐source monitoring and control, Intelligos introduced Agüero and the Signo team to LEA Professional. "LEA's products are high quality, and its technology is simple to understand and gives KFC the ability to control, monitor, and troubleshoot all locations from a single place through the Cloud. These were all key selling points for me. Intéligos handles the product, the logistics, shipping, and warehousing, and has helped ensure everything runs smoothly," adds Agüero.
Agüero's Signo team started with 70 stores in Phase One of the project. "We felt we had a great opportunity to make things better." When Signo started the process 18 months ago, all of the stores played different music, at different sound levels, and in some cases, not at all. "We told the store managers to focus on their attention on serving customers. We are the experts in sound and music, and you are the experts in chicken. Together, we make a good alliance," quips Agüero.
Intéligos recommended the LEA Connect Series 354 amplifier for each location. The LEA Connect Series 354 is a 4‐channel amplifier with 350 watts per channel, providing each KFC location with enough power to support audio content delivery. The amplifier is easy to install either through the built‐in Wi‐Fi access point, connecting with the location's Wi‐Fi, or with an ethernet connection. "We hesitated sending a lot of product into each store," says Agüero. "We wanted to keep it simple by assigning a standard package of one LEA CS354 amplifier and a set of Sonos speakers for each location – easy to inventory, ship, and keep track of."
The biggest advantage for Signo now is the ability to remotely troubleshoot and fix any issue with any store from the Mexico City office. "We can also easily modify music content across locations as well as schedule amplifier on/off times to coincide with store operating hours, which can help save energy and extend the life of the products," delights Agüero.

THE CONCLUSION
LEA AMPLIFIERS FOR POPULAR DINING | KFC MEXICO
As KFC continues implementing the LEA solution, the Cloud component will become even more critical
as the company expands its footprint throughout the country.
"This is a robust amplifier. We don't want to have to send a technician to the desert in Sonora or some
other remote location every time a problem occurs. That would be a big cost for us and KFC," laments
Agüero. Being able to remotely troubleshoot and fix any issue with any store from one location was the ideal scenario for KFC and Agüero's team. "Thankfully we haven't had one problem. The LEA solution isvery robust and reliable."
With Phase One completed, the Signo team has developed an ideal blueprint for the balance of the project. And, above all, KFC Mexico has greater control in providing families across the country with a uniform, consistent in‐store experience – a key element to the total brand experience the company aims to achieve.
We would like to thank everyone at KFC Mexico  and Intéligos for choosing our amps for this killer install and we hope to provide quality sound for many years to come.