Cosmic Electronics installs zoned Optimal Audio system at London's latest culinary hotspot…
Named for the iconic Celtic warrior queen, and located in the heart of London's thriving culinary scene in Battersea, recently-opened restaurant Boudica is a stylishly presented venue catering for brunch, lunch, dinner and drinks. Transitioning through the day from a quiet chilled space to a lively cocktail bar with top DJs, Boudica is focused on delivering classic comfort food with international and contemporary twists in an immersive, luxurious setting.
Music will play a key role in precisely establishing the right ambience for Boudica's changing moods, and with audio reinforcement in mind, co-founder Ed Allingham sought advice from Mark Damon, Director at leading installers Cosmic Electronics.
Damon recommended an Optimal Audio solution for Boudica, having been impressed with its commercial audio offering since attending the company's launch in 2021:
"The Optimal Audio package caught my attention from the off – its emphasis on simplifying commercial audio for the benefit of installers and end-users, whilst maintaining audio quality, was very appealing. Having used elements of the ecosystem on several jobs now, it's certainly lived up to its billing. When the Boudica project arose, I had no hesitation in recommending Optimal Audio."
Boudica operates across two floors with the main downstairs restaurant comprising a bar to the left of the space, rear seating and side seating, while the upstairs space is reserved for private dining. The brief required a zoned audio system that could meet the varying requirements of the spaces, from low-key background music at one end of the spectrum to DJ sets at the other.
The system was divided into 6 zones, namely bar, dining area, entrance, upstairs dining, terrace and toilets, and deployed an Optimal Audio Zone 8P at its heart. The Zone 8P is an 8-zone audio controller with DSP, amplification and WebApp. The unit incorporates 8 channels of 100W integrated amplification at 4ohms or 8ohms. The onboard WebApp unlocks the full potential of Zone, providing easy access to EQs, speaker presets and time-of-day routines, and is compatible with any device to make for a straightforward setup.
Cosmic installed 6 x Cuboid 8 two-way, full-range, passive 8" on-wall loudspeakers mounted on UB1-B horizontal brackets, and 3 x Sub 15 high-power subwoofers for the bar and restaurant, with 2 x Up 6 two-way passive full-range 6" ceiling speakers for the upstairs room. A single Up 6 was deployed in each of the venue's two rest rooms. The system is powered by 2 x Optimal Audio SmartAmp 30 (4 x 250W amplifier with integral DSP).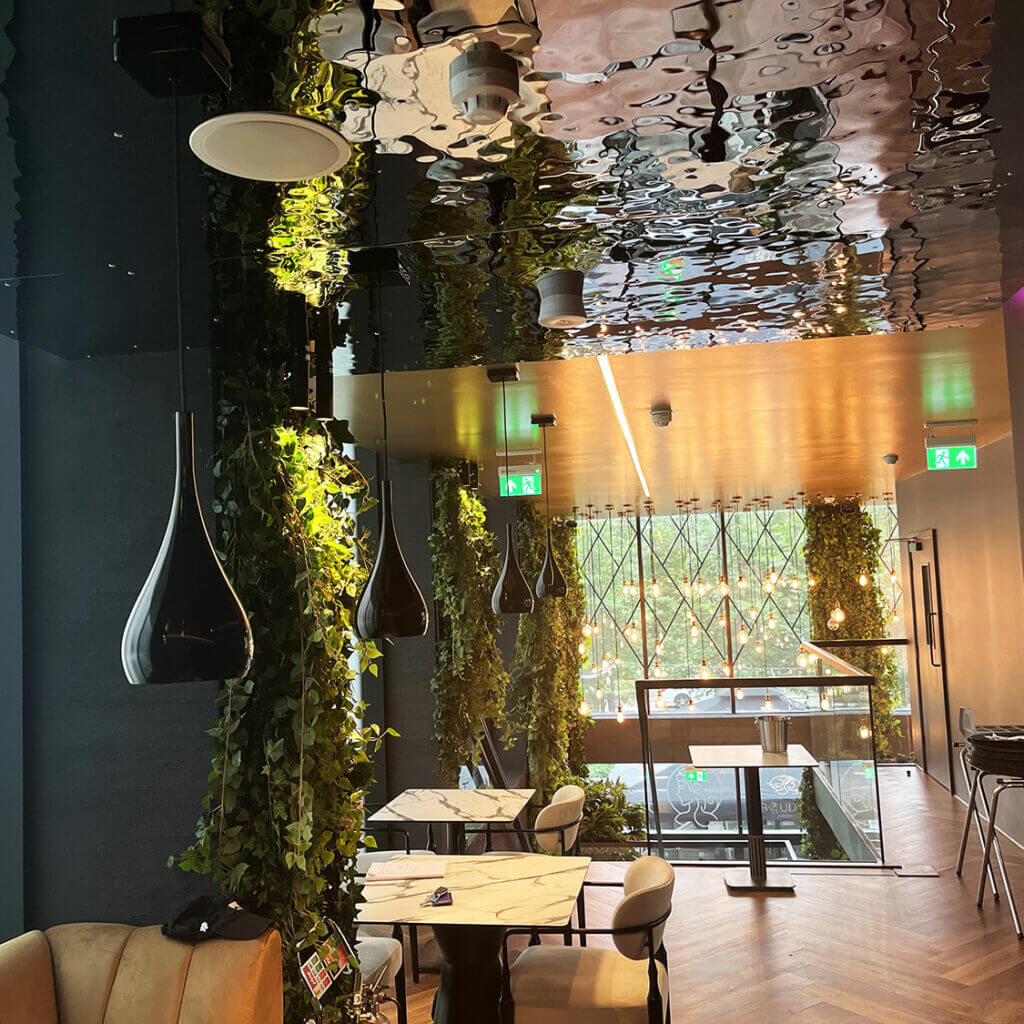 The installation proved to be as quick and straightforward as Mark Damon had expected:
"As has been the case each time we've used Optimal Audio products, the job was quick and easy. Such is the intuitive nature and ease of use of the Zone 8P controller, I'd estimate that within 30 minutes of starting the routing/setup process we had sound coming through the system, much to the client's delight – very impressive. Being able to hide unwanted zones and sources means that the user is presented with an uncomplicated simple-to-use interface. For small to medium-sized venues like this, Optimal Audio's Zone will now be my go-to controller."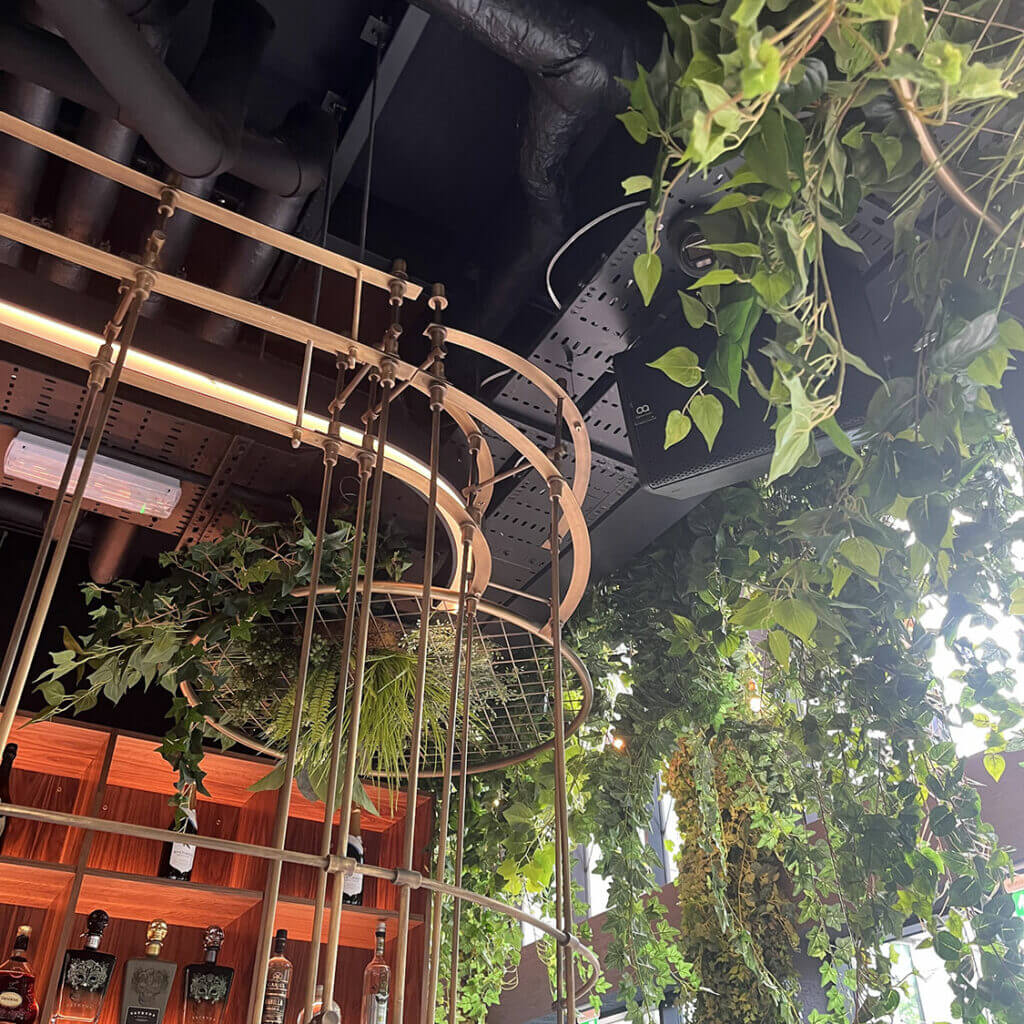 Boudica co-founder Ed Allingham is pleased with the new system:
"Having made a significant investment in interior design, it was vital to us that we had an audio system that not only sounded great across the volume spectrum, but also had a pleasing aesthetic. The system is sleek and unobtrusive but definitely matches our ambition to provide an authentic club sound when required – the Cuboid speakers achieve that very impressively.
"It was also very important that our team felt confident about using the system to best effect without being intimidated or bogged down by something overly technical. The Optimal Audio Zone controller is brilliant in that respect. I'm sure that there's a lot of hi-tech stuff going on in the box but the user interface is so simple! It really was up and running in no time…"
Bar Manager Chris G confirms the intuitive nature of WebApp:
"As a new business we need to be on top of every detail as we fine tune things across the venue, so I need to be able to respond quickly and easily in making adjustments to the sound levels in the different zones. Having the WebApp on my phone makes that instantly possible with the minimum of fuss."
During the summer months Boudica will take advantage during fine weather to entertain guests on its outside terrace, and Cosmic will soon be revisiting the site to add IP54-rated loudspeakers for this purpose. Having added another zone to the system without complication, the venue can take advantage of the unit's structured 'routine' feature to ensure sound is stopped outside at a prescribed time to comply with local authority restrictions, removing another element of pressure from busy staff.
Jamie Gomez of Optimal Audio comments:
"It's great to see an Optimal Audio system being deployed to such great effect at this beautiful venue. The message is clear from both installer and end-user that our approach to developing a high-quality audio ecosystem that takes the complexity out of commercial audio is well-founded. The onboard flexibility and versatility of Zone enables Boudica to deliver exactly what they want, where they want and when they want, without any of the attendant stress or hassles often associated with other commercial audio packages."