Smart homes are on the rise and it just so happens that our smart amps fit extremely well into the systems powering them.

Our integrator friends at Wired Media Solutions recognized this as well during their recent 15,000 sq. ft. smart home project where they used eleven of our CONNECTSERIES amplifiers to send audio to nearly every room of this gorgeous Newport Beach, CA home. From the kitchen to each bedroom and even the bathrooms, the system is using a total of 84 LEA audio channels to power multiple zones over a Dante distributed network.
Let's dive into the details!
THE SPEC
AMPLIFIERS FOR SMART HOMES | LEA INSTALL AT A 15,000 SQ. FT. SMART HOME
Venue: 15,000 Sq. Ft. Smart Home in Newport Beach, CA
Install Purpose: System upgrade
Product Used: CONNECTSERIES  168D (X10) and 164D (X1)
THE VENUE
AMPLIFIERS FOR SMART HOMES | LEA INSTALL AT A 15,000 SQ. FT. SMART HOME
The owners of a 15,000-square-foot smart home in Newport Beach, California, wanted to upgrade and integrate an all-home sound system. The home consists of multiple audio zones all run over a Dante networked system. With speakers in nearly every single room as well as the outdoor patio, this home needed a powerful, small form factor amplifier solution.
THE INTEGRATOR
AMPLIFIERS FOR SMART HOMES | LEA INSTALL AT A 15,000 SQ. FT. SMART HOME
Wired Media Solutions provides seamlessly integrated high-end home automation solutions. Cohesive and invisible, as home automation should be.
THE INSTALL
AMPLIFIERS FOR SMART HOMES | LEA INSTALL AT A 15,000 SQ. FT. SMART HOME
Ryan Wilkinson, President/CEO, WMS Wired Media Solutions, explained that while the home is spacious, the integration team was challenged to fit the equipment into the existing small closet. Wilkinson needed to save as much room as possible to cover the home properly from this space while still delivering the channel count, power, and network connectivity required to distribute and control the audio throughout the house.
"We had a big constraint of space and input power, but we still needed a high channel count," said Wilkinson, "The LEA amplifiers fit perfectly because they are all multi-channel, single-rack-unit amps that don't draw much power, they have built-in Ethernet connectivity and DSP, and they deliver plenty of output power to handle the entire house."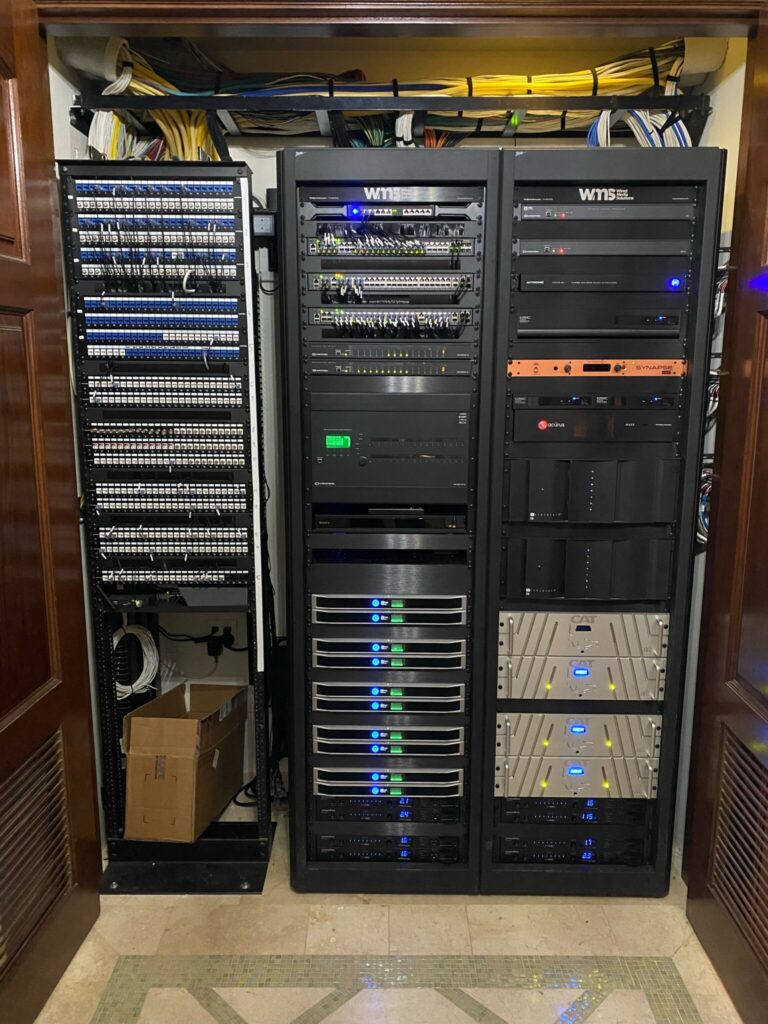 The team installed a set of 11 Connect Series amplifiers from LEA Professional, including ten 168D 8-channel amplifiers with 160 watts per channel to cover the indoor rooms, and a 164D 4-channel amp, for an outdoor patio area — for a total of 84 audio channels.
"Every room and space in the house has speakers — bathrooms, bedrooms, common areas, outdoor areas, kitchen, everywhere — and it's a mix of different types and brands of speakers," explained Wilkinson. "Maintaining the ability to power zones individually gave us the ability to finely tune the volume and DSP presets across the various types of speakers and areas."

"The LEA amps' built-in DSP was a big help in this project, and we're starting to use it more in other smart home installations," said Wilkinson. "It saves space in the rack, greatly streamlines the entire installation, and makes system set-up and adjustments easy."
Physically, DSP-powered equipment can do more with less, and therefore frees up critical rack space and reduces system weight. All the input routing, room tuning, speaker tuning, and limiting are built into the amplifier, which greatly reduces the need for additional hardware. Not only does this free up rack space, but it also simplifies system setup and reduces the possibility of issues arising within the system.
By using a digital input router, technicians can route any input to any output. And with the integration of an audio network, as with Dante, it's all just an Ethernet cable away. LEA amplifier built-in DSP features include advanced DSP Architecture, an Input Matrix, Crossovers, Parametric EQ, Output Delay, Output Protection, User-Adjustable Limiting, and Load Monitoring.
"The system is all Dante networked and Crestron controlled, and we designed a custom touch-panel interface, so it's all very easy to manage," said Wilkinson, "Everything's time-delayed and leveled correctly; all the limiters and speaker protections are in place, and it sounds great. And if needed, we can remote into the LEA amps for status reports or to make adjustments — we couldn't be happier."
THE CONCLUSION
AMPLIFIERS FOR SMART HOMES | LEA INSTALL AT A 15,000 SQ. FT. SMART HOME
We'd like to thank Ryan Wilkinson and his team at Wired Media Solutions for choosing our amps for this killer installation and we hope that the audio systems will continue to deliver reliable audio for years to come.
If you have any questions or feedback about using amplifiers for smart homes like this or any other projects, feel free to fill out the form below or reach out to us on our social media channels.