Amplifiers For Residential AV Systems | LEA Install At Truchard Vineyards
We're popping the cork on our latest LEA installation story straight out of wine country. We heard through the grapevine that Napa Valley integrator, RCA Integrated, was struggling to find any amplification products that would deliver on time to meet their client's deadline. They needed a full-bodied system solution that would deliver enough quality, power, and control to host special events and parties for both indoor and outdoor spaces. 

Luckily, our amps proved to be the perfect pairing for this robust auditory arrangement including Sonance Professional and James Loudspeakers. 
Let's dive in and see how our partners at LVX Marketing worked with the integrator to spec our CONNECTSERIES amplifiers into the AV system for this smart-home in Napa Valley.
THE SPEC
AMPLIFIERS FOR RESIDENTIAL AV SYSTEMS | LEA INSTALL AT TRUCHARD VINEYARDS
Venue: Residential Venue Located within Truchard Vineyards
Install Purpose: New system to support special events and parties
Product Used: CONNECTSERIES 704D (X5)
THE VENUE
AMPLIFIERS FOR RESIDENTIAL AV SYSTEMS | LEA INSTALL AT TRUCHARD VINEYARDS
Truchard Vineyards is located in Napa Valley, CA and grows 12 different grape varieties, making it one of the most diverse estate vineyards in the area.  Because of the unique climate and soil that exists on the estate, the Truchard family is able to create wines that are truly "with a sense of place."
The system was designed for a 15,000 square-foot smart-home project that exists on the estate.
THE INTEGRATOR
AMPLIFIERS FOR RESIDENTIAL AV SYSTEMS | LEA INSTALL AT TRUCHARD VINEYARDS
Windsor-based RCA Integrated Systems is a full-service electrical and integration company in Napa Valley, California. RCA has a proven track record in the custom residential industry, specifically with smart home upgrades and new installations. The company offers a wide range of residential services to handle all facets of an electrical project, including state-of-the-art lighting technologies, audio/video/lighting control systems, and energy efficiency.
We sat down with AV Project Manager for RCA Integrated Systems, Jack Nelson, to talk shop. Check out our full conversation here.

THE INSTALL
AMPLIFIERS FOR RESIDENTIAL AV SYSTEMS | LEA INSTALL AT TRUCHARD VINEYARDS
The main focus of the new home's design was to feature an integrated, professional-grade audio system with enough quality, power, and control to host special events and parties and to cover both indoor and outdoor spaces. Jason Nelson, AV Project Manager for RCA Integrated Systems, explained that his company began working on the final phase of the installation earlier this year, just as COVID restrictions began to loosen. But while it was becoming easier to do business again, many of the amp manufacturers Nelson usually worked with could not get product components because of shortages and supply-chain issues. And even if companies would accept backorders, they had far-projected ship dates that did not meet the customer's needs.
The RCA team was under pressure to get a set of audio zones operational for an important event the customer was hosting. All their usual go-to amp suppliers we're out of stock with no reliable availability projections. Ironically, there was a surge in residential and smart home pro AV installations during the pandemic because everyone was staying home and looking for in-home entertainment. And that surge, coupled with a factory fire at an AV component manufacture in Japan, left many amp manufacturers and suppliers with few options.
"I was frustrated, banging my head against a wall trying to find amps, and I then I get a call from John Hernandez, our manufacturers' rep at LVX Marketing who says that they have a new line of amps they wanted to show us," said Nelson. "He told me a bit about LEA amplifiers and sent me a specification sheet, and I couldn't believe it. It was the exact type of amp we had been searching for, and best of all, they were in stock and ready to ship — the timing was amazing."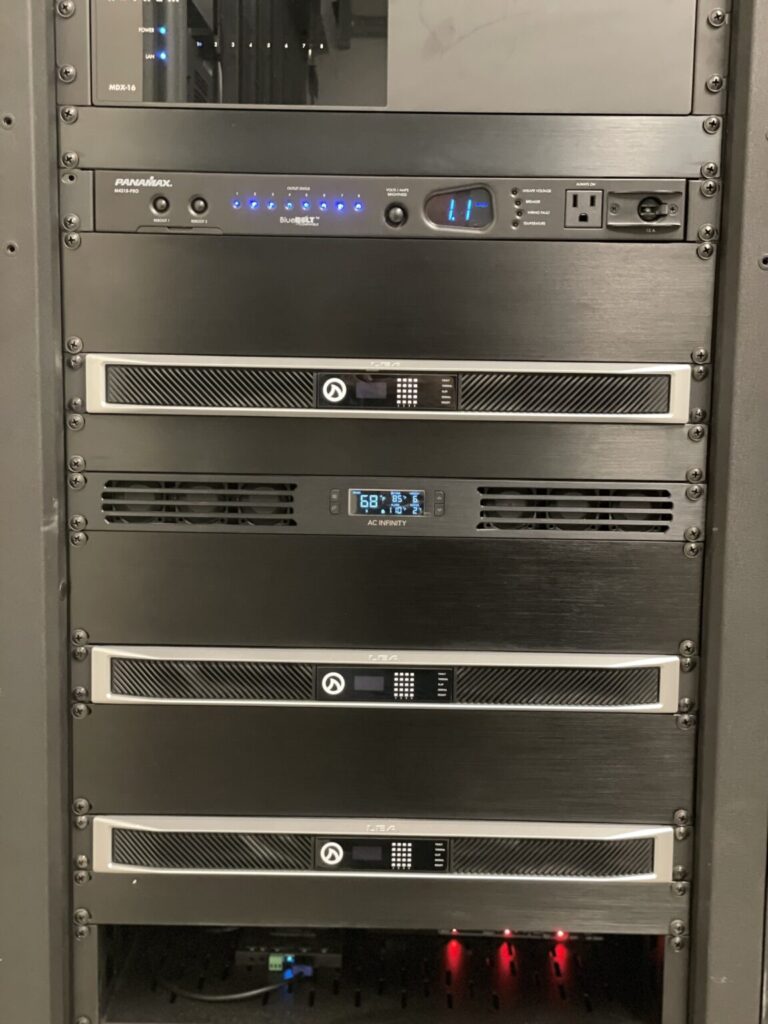 Nelson explained that typically they use multimode type amplifiers because of their versatility. This approach helps keep their installations clean and organized. Power output is also very important. The RCA team usually specifies amps of 700 watts and above to appropriately power larger residential systems with headroom to spare. Nelson ordered and installed a set of five, Connect 704D amplifiers from LEA Professional to meet these specifications.
"This home has extensive interior and exterior audio program requirements, and with the LEA amps in place, we now have many of the zones operational, and it's been great so far," said Nelson. "The amplifiers' interface is great to work with, the amps sound really good, and best of all, the system is rocking, and the client absolutely loves it!"

For the loudspeakers, RCA installed a combination of in-ceiling, wall mount, and subwoofer speakers from Sonance Professional internally. For the landscape zones, they used a mix of rugged, custom, environmental systems from James Loudspeaker.

"We're using analog inputs from the audio sources, but we're also using all the web-based features that the LEA amps have built-in," said Nelson. "It's so cool to be able to hop on a smartphone or iPad — even if we don't have our network going or everything plugged in — and we can connect to the amps and configure them. This saved time and had simplified the install for sure."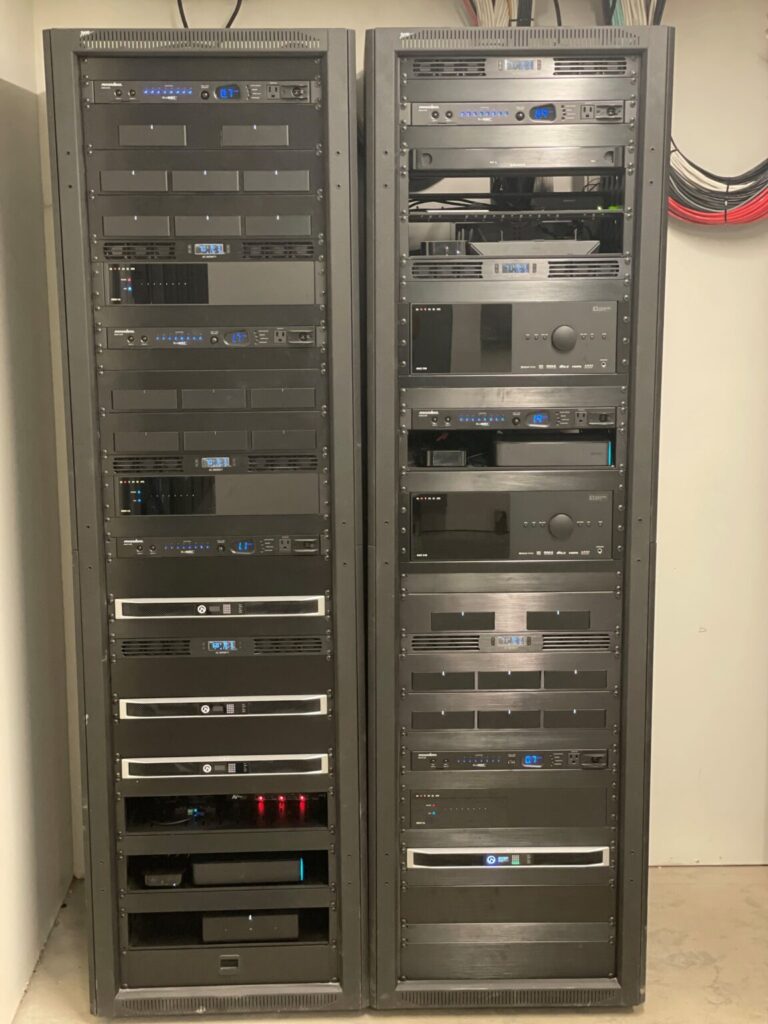 THE CONCLUSION
AMPLIFIERS FOR RESIDENTIAL AV SYSTEMS | LEA INSTALL AT TRUCHARD VINEYARDS
After ordering the amps, Nelson worked with a LEA representative for a couple of zoom-call training sessions to quickly get up to speed with the amps' capabilities, configuration possibilities, and installation best practices.
"The training was perfect; the amps' interface is powerful but straightforward. When I got in front of the amps on site, everything was exactly what they said; it's very intuitive, and we were almost immediately up and running," said Nelson. "Unusual circumstances brought LEA to our attention, but the amps got us through a tough situation with great performance. We've definitely added LEA amps to our go-to list, and I'm looking forward to working with them on future installations."