As Chris Bogg woke up to photos of his sound equipment across social media, it occurred to him that more than 20 years had elapsed since he set up his fledgling pro-audio business from scratch, in his dad's garage. This would duly lead, in 2005, to the formation of dBS Solutions—but not before undergoing a mazy journey.
Reflecting on the Matt Goss show at the Royal Albert Hall that had piqued his reaction, he said, "While it's not the first time we'd been in there with a tour it was certainly a special moment. Another was our first arena tour last year [with kids Nickelodeon TV stars PAW Patrol Live!]"
His tenet of supporting British suppliers—initially loudspeakers and industrial looking amplifiers from McGregor, on his doorstep in Warrington—was preserved when nearly 15 years ago he became a member of the Martin Audio family. This is a relationship which has been carefully nurtured, and from which he has never looked back.
dBS Solutions' inventory has evolved through the product generations to the manufacturer's current state-of-the-art Wavefront Precision (WPM, WPS and WPC) series, cardioid subs and TORUS constant curvature array. In explanation, he says, "I learnt to buy the best kit you can afford early on—and although what I can afford has changed considerably over the years, that philosophy has never done me wrong." He has a similar philosophy towards borrowing, and notes that the only loan he ever had was from his father.
The Matt Goss tour is a perfect example of winning tours by reputation and relationship building, since dBS Solutions' MD had previously worked with FOH engineer Simon Allen and production company IBB Media on theTubular Bellstour. "Simon was so pleased with our crew and the Martin Audio rig, which he was using for the first time, that we were invited back. Beingpredominantly a studio guy he likes the PA to be ruler flat and it's well on the way to doing that with the predictions from DISPLAY." As with bothTubular BellsandPAW Patrol Live!the task of PA optimisation was in the capable hands of system tech, Danny Clare.
Now backwind to the 1990s. While still at high school, a 14-year-old Chris started deejaying. With seed capital from his dad, including the purchase of a van, he acquired some McGregor speakers for local college work. But a major sea change came about when he was able to pick up some work experience at the 1998 Reading Festival, thanks to his cousin working for promoters the Mean Fiddler Group, as well as with lighting rental specialists, Art of Darkness. "There I was as a 15-year-old on a tour bus with rock and roll lampies." And that's when the realisation hit him that he could do this for a living rather than be an eternal DJ.
Chris did a two-year BTEC in Performing Arts, covering backstage disciplines, but his big academic break came when he secured a place at the prestigious LIPA (Liverpool Institute for Performing Arts) between 2001-2003 from which he emerged with a BA (Hons) degree in Theatre & Performance Design & Technology.
It was the making of him. "I had done more lighting than sound when I went to LIPA, but it was here that sound caught my eye and I realised that as a designer could try out all the risky stuff here. I designed and mixed a lot of theatre shows while at the same time still working with local PA companies." In particular he came under the influence of new tutor Chris Layton, who also ran monitors for bands such as the Afro-Celt Sound System. In fact, Theatre Sound Design remains to this day one of Chris Bogg's core specialities.
Graduating from LIPA he had to make a career decision and quickly realised the 'buy to hire' model (initially securing kit via eBay) was potentially more lucrative and sustainable.
He initially turned to another supplier on his doorstep—Knutsford based OHM—and with the purchase of six stacks of PA he was forced out of his dad's garage and into his own premises two miles up the road. But there was a secondary reason: "After the gigs we would arrive back at my parents in the middle of the night and have to unload a van whilst trying to be remain deathly quiet. We got a lot of neighbours curtain twitching and it quickly got to the stage where I knew not only did we need more space, but it had to be somewhere more industrial."
Meanwhile he was continuing to earn good money working with local wedding band Black Velvet before taking a permanent salaried job at Manchester's Bridgewater Hall, spending two years looking after their sound department. This introduced him to a number of touring American bands but more important globally famous orchestras such as the Halle and BBC Philharmonic, whose demands raised his standards and would set him off on another path.
"After two years I realised venues weren't for me, and Miriam Stone, who was my tech manager, and an excellent boss, said she was surprised I'd stayed so long!"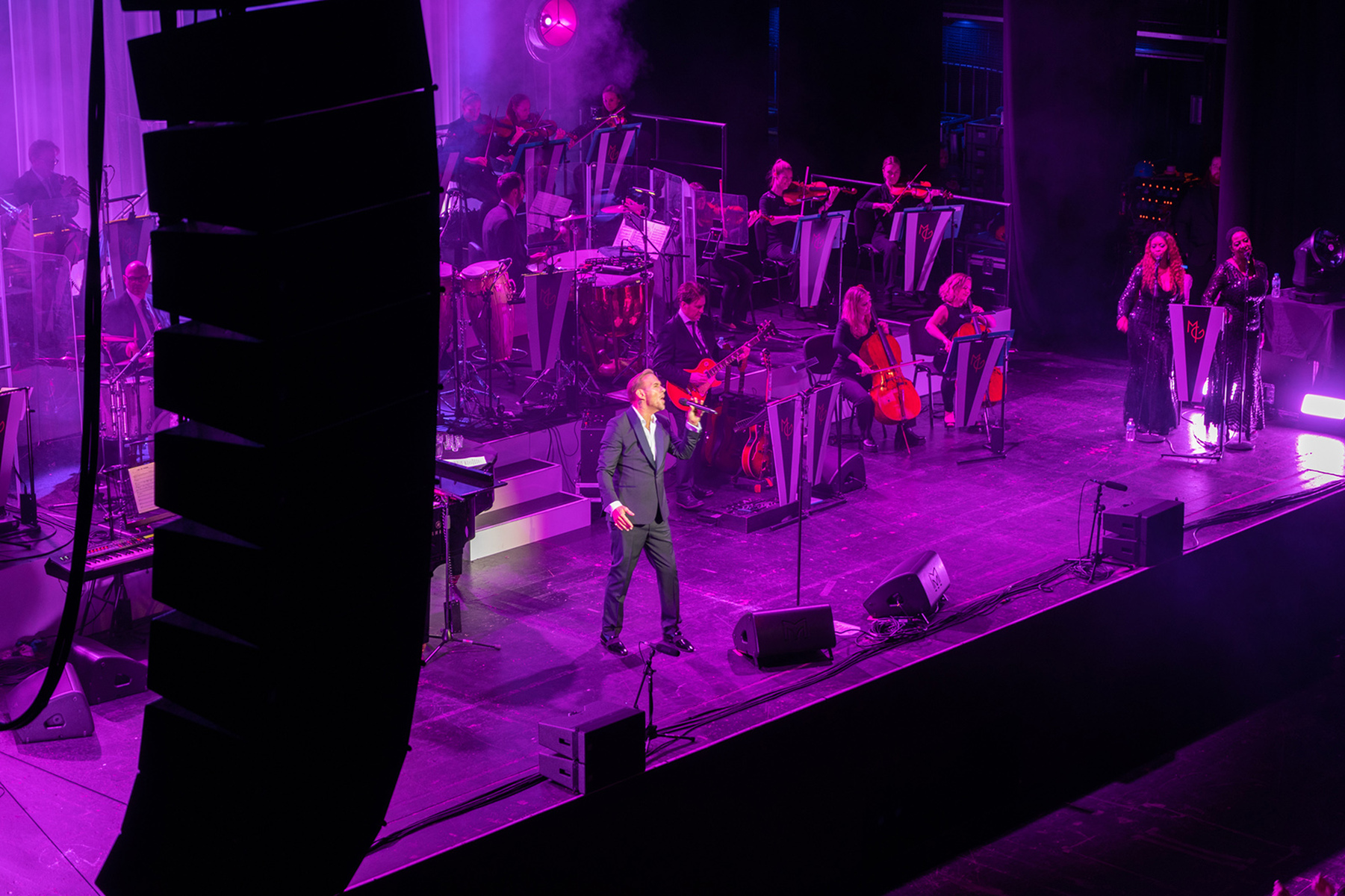 The decision to set up dBS Solutions in 2005 became a no brainer, and his new warehouse supported the dBS inventory for the next five years. But having outgrown his old point source PA and discovered Martin Audio things were about to change.
"I had heard of W8LM [Mini Line Array] and knew it had a good reputation," he said. "I could drive it with the XTA's and amps I had and knew I could hire in more locally. I started with just 12 W8LM boxes [which grew to 24] and that enabled me to undertake theatre and festival work I couldn't have contemplated before."
But in 2016 tragedy struck, When set to provide reinforcement for a gig by local band Viola Beach, who were on the verge of stardom, the four band members, along with manager Craig Tarry, plunged to their death in a tragic accident. Instead of supporting this local gig he found himself packing Warrington's Parr Hall with W8LM PA for a tribute concert featuring The Courteeners, Blossoms, The Coral and The Kooks. "Ironically it was this gig that got us known to SJM and other major concert promoters."
dBS Solutions' inventory stepped up from W8LM, via Martin Audio's DD6 and XD12—purchased for theAvenueQtheatre tour for producers Selladoor, and run with WS18X subs. Originally intended as a three-week tour it lasted six months.
With XD15 now joining XD12 in the ranks, the point source solution, with rotatable horns, proved perfect for theatre, and they toured a number of other major shows through provincial theatre, ranging fromSpamalottoLegally Blonde.
And when in 2019 Colchester's Mercury Theatre, with whom they had a close relationship needed an 800-cap temporary pop-up tented theatre while their permanent venue was being renovated, Chris knew it was time to retire the W8LM in favour of a 40 Wavefront Precision Mini (WPM) line array. Knowing they would run the risk of sound escape at Colchester's Abbey Field, disturbing the neighbours, he knew that deployment of this advanced tech was the way forward and would achieve respectable offsite sound limits.
"We needed the control and scalability of Wavefront Precision where we could use Hard Avoid and cardioid sub array for offsite sound rejection, and this helped sell it to the client," says Chris. The system served them perfectly for the entire three-month outdoor season.
Then in February 2020—immediately before lockdown—two hangs of 16 WPM, supported byflown SXF115 subwoofers and DD6 front fills, went out on the Queen Symphonic tour.
As for lockdown itself, he acknowledges that while Covid had been a tough period dBS Solutions managed to secure Arts Council funding, largely as a result of having undertaken a good deal of community work … which softened the blow.
The final frontier came when they were approached by production manager Ben Marshall, with whom Chris had worked onLegally Blonde, to handle thePAW Patrol Live!tour.
"We had been looking for a bigger line array and had already bought a small quantity of WPS. But WPS couldn't have cut it for arenas and so we bought WPC. It was our first experience of arenas or venues on that scale, and it has put us in the frame to take on much larger work."
The relationship Martin Audio has been everything they could have hoped for, vindicating their decision to stay with a UK supplier. "Ben Tucker and Robin Dibble support us well from a technical point of view as does Peter Codron on sales."
With 84 Wavefront Precision boxes in their hire fleet dBS Solutions are today the third largest UK stockist. Looking back from his idyllic base—on a farm set within the beautiful Cheshire countryside—Chris Bogg says, "Over the years we have worked with some truly lovely people, and that is what gets me up each morning. I'm looking forward to seeing where we can go in the next few years."
Image 1: Photo Credit – Pam Raith
Image 2: Photo Credit – Theo Tighe
Image 6: Photo Credit – Warrington Guardian Dave Gillespie