LEA Amps Power Luxurious Resort: JW Marriott Marco Island
When the JW Marriott Marco Island Beach Resort needed to upgrade its Florida property's audio system they decided to go with LEA Professional to help complete the install.
Let's dive in! 
THE SPEC
LEA AMPS POWER LUXURIOUS RESORT: JW MARRIOTT MARCO ISLAND
 Venue: JW Marriott Beach Resort | Marco Island, FL
 Integrator: K Systems
 Audio Spaces: Entire resort
 Product Used: CONNECTSERIES 354D, 704D, 84D, and 702D (28).
THE VENUE
LEA AMPS POWER LUXURIOUS RESORT: JW MARRIOTT MARCO ISLAND
The JW Marriott Marco Island Beach Resort is situated along three miles of peaceful, pristine, private beaches on the Gulf of Mexico. The resort is expansive with 12 restaurants, two championship golf courses, a fitness center, spa, and multiple meeting and conference facilities. With music and audio quality of critical importance to the total guest experience throughout the property, it was necessary for K Systems to design and install a scalable audio solution to make it easy for Resort management to operate.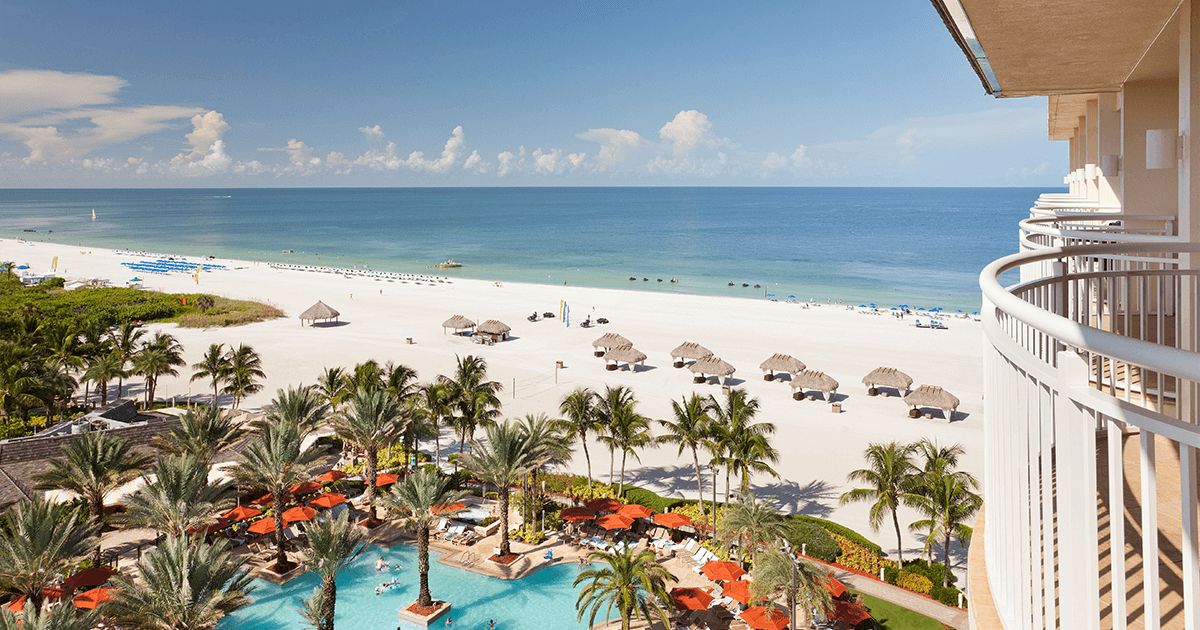 THE INSTALL
LEA AMPS POWER LUXURIOUS RESORT: JW MARRIOTT MARCO ISLAND
For some time, the resort had been battling with an audio system that was fragmented, and a challenge to operate and keep maintained. While different engineers had fixed issues over the years, these 'band-aid' solutions had only aggravated the problems. Understanding they needed a more sophisticated solution to provide guests with a sensational sound experience that would match the luxuriousness of the resort, management contacted K Systems and owner Mitchell Piper.
"When we began the 'treasure hunt' we started with the mechanical elements," said Piper. "Where is all the equipment? What speakers are working; what speakers aren't working? What wires are broken etc. And that level of discovery takes a long time. It's like peeling away a gigantic onion. And frankly, you are always still discovering things. That's just how these properties work, because there's no institutional knowledge. So you have to pick it up in dribs and drabs, you have to talk to everyone, understand what their frustrations are and what they want to accomplish. Eventually a pattern emerges where you can really see the overarching concerns." 
From this level of discovery, Piper was met with two main problems: a mechanical problem and — as Piper described it – 'a vibe problem.' In terms of the mechanical issues, there was a severe lack of understanding as to how many of the systems of the property operated. On top of this, many of the current systems needed to be constantly rebooted. From speaking with management, Piper realized the resort needed a system that could be centrally controlled through the cloud and would be reliable enough that there would be no need for continuous rebooting. If all of these things were in place, he was confident he could restore the musical experience for guests and ultimately fix the 'vibe' problem. 
Piper and his team ended up gutting the entire system and designing a complete redo. One of his first tasks was to find and spec out equipment that could connect to the cloud. 
"On a property like this, where there are twenty different closets of equipment, it is important for management to be able to 'see' the entire property, either through a cloud or through a network, and then be able to control the equipment on the property through that connectivity," commented Piper.
K Systems installed 28 LEA Professional Dante Connect Series amplifiers for maximum coverage, a mixture of 354D, 704D, 84D and 702D. 
"I was pleasantly surprised by just how simple the set up was," commented Piper. "We're a small business, so each member of the team wears a lot of different hats. Frankly we do not have time for complexity when it comes to install protocol. When we went to install the LEA amp, I think it took me maybe five minutes to connect it to the cloud." 
THE CONCLUSION
LEA AMPS POWER LUXURIOUS RESORT: JW MARRIOTT MARCO ISLAND
"The tools and resources available to me from LEA are terrific," quips Piper.  "I recently installed the company's Sharkware application software which makes it easier to locally connect to all of the amps on the property and make adjustments." Of particular help is the simplicity around amp troubleshooting.  Each LEA amplifier features an indicator–a smiley face where everything is good, and a  frown or yikes  if there is potential trouble.  "On a property like Marco where you have two dozen amps running through the cloud, a quick scan of smiles or frowns makes identifying trouble spots a snap," adds Piper.
As a small business, every little bit helps.  "We're a microenterprise. I don't have time to set a guy alone for seven hours just to learn everything, read every manual, etc. When we have a question, microenterprises are more dependent on help from manufacturers and trusting that you're going to get that support when you need it in a timely manner is exceptionally important.  The technology I provide gives people joy and I need partners like LEA who can help me get there."
Overall, the resort's management has been extremely impressed with their upgraded audio system – one that is now centrally-controlled, reliable and sounds good. Piper is proud to attest that the positive musical vibe on the island has been restored and that the sound experience is now a true pleasure as well as treasure. 
We would like to thank everyone at JW Marriott Marco Island Resort & K Systems for choosing our amps on this killer install and we hope our amps provide quality sounds for years to come.